My trusty scalpel -  13 and a bit years of cutting with this knife, thousands of blades, hundreds of artworks and only loosing half a finger in the process. In this blog I delve into the origin of my fascination with the paper Cloche. 
This blog is about my cheerful introduction to creating paper artwork displayed in glass cloches and it all started with my cheese-loving best friend. 
Nearly a year ago to the day, my best friend got married - total Joni Mitchel loving hippy who was getting married on a farm in Wales, on a hill called 'the Promise Knoll'.  As a loving and loyal bridesmaid, I wanted to get the happy couple something really personal as a gift. But these two spectacular human beings just refused to fit any typical mould of 'wedding gifts'.  
A few weeks before the wedding, I stumbled upon a lovely cheese cloche in an antiques shop and hoped I was onto a winner, (cheese being her second love after her husband). But when I got home and proudly produced the gift that was finally going to solve my problem ... and I realised it was JUST a cheese cloche... and it wasn't personal and oozing with love, the only thing it was oozing with was the faint smell of old cheese....
So my problem solving design mind got to work.  
'How do I capture the atmosphere of Amy's day, inside this cloche, for them to hold onto FOREVER?'  I wondered. I had never worked in the round on a three-dimensional scale with paper before but I had an idea. I wanted to recreate a moment of absolute joy for them just after saying their vows, a moment of proudly presenting themselves to the world as husband and wife for the first time, arms flung wide on the top of a hill, trees and farmland surrounding them. And so I set to work on my first paper sculpture inside a glass cloche and the result was something totally original and really quite lovely.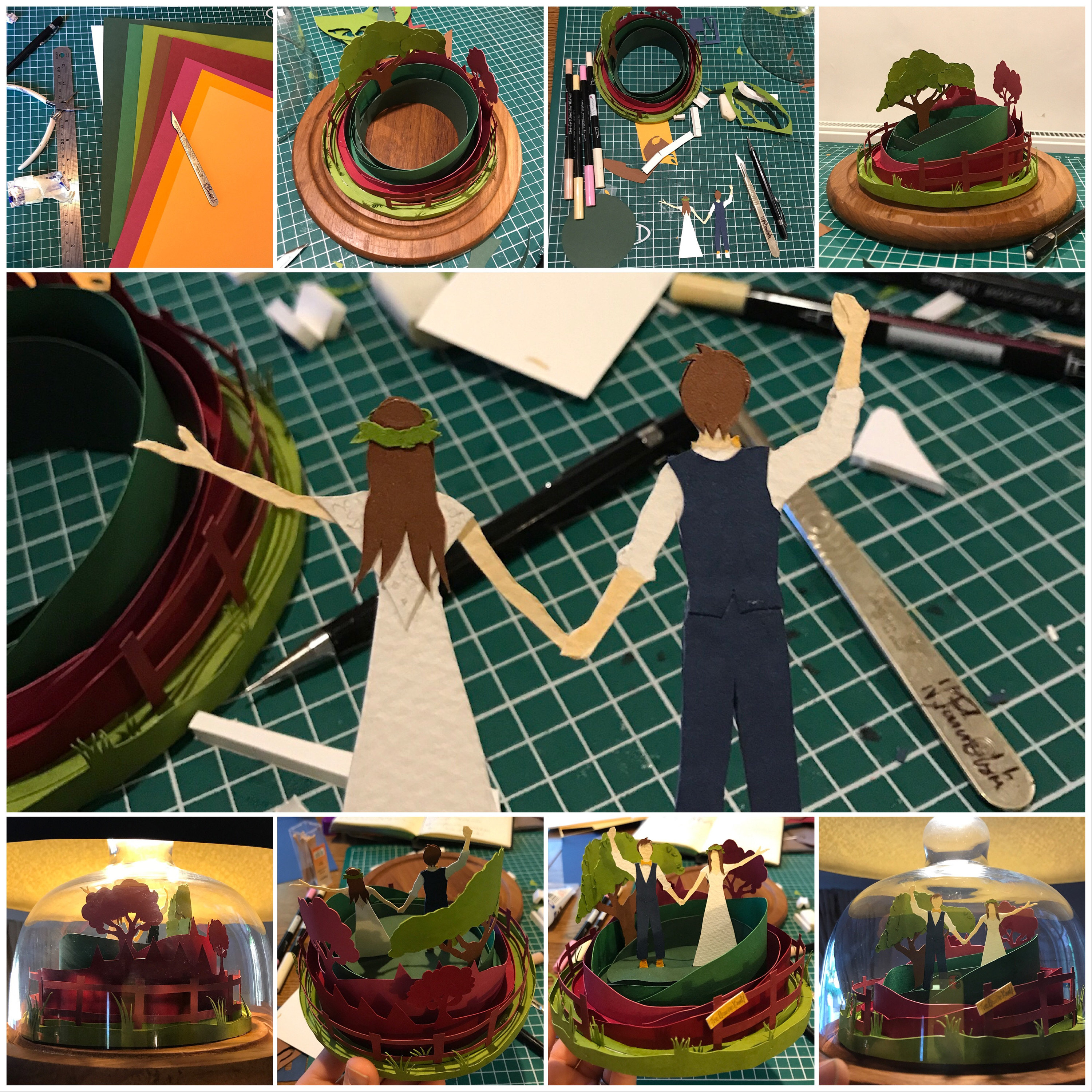 Mr & Mrs Scott 2017 
This delightful bespoke brief really brought out the best me, and the reaction from my darling friend and her husband was just what I'd hoped for. "I'm used to getting thoughtful gifts from Nikki, she is that type of friend, but the wedding cloche is just so special to me. It sits on our mantlepiece alongside our wedding photos and captures the spirit of our day perfectly. It's us waving to our guests from the top of the hill where we got married. You can see the details in my dress, my flower crown and the colour of my husband's bow tie, the central piece even rotates so we can be twirling for joy! It's so personal. Every time I walk past it gives me a jolt of love, and of course she knew those beautiful little details would do just that." 
As Christmas approached, I created snowy scenes and a winter Woodland cloche for a local craft fair. They had a lot of attention and all sold by the end of the evening. The most repeated comment was on how different they were. I put a huge amount of time into these artworks by carefully building up layers of details and textures to create depth and intrigue to the visual story. I think that this approach stems from my training in Theatre Design. Creating 'worlds' within a space that evolves as it is explored over time. Working on a small scale comes very naturally to me through years of model making for stage design mock-ups.  Lighting the pieces with tiny LED lights brings a whole new level of  depth to the piece and I try to incorporate them in each artwork now.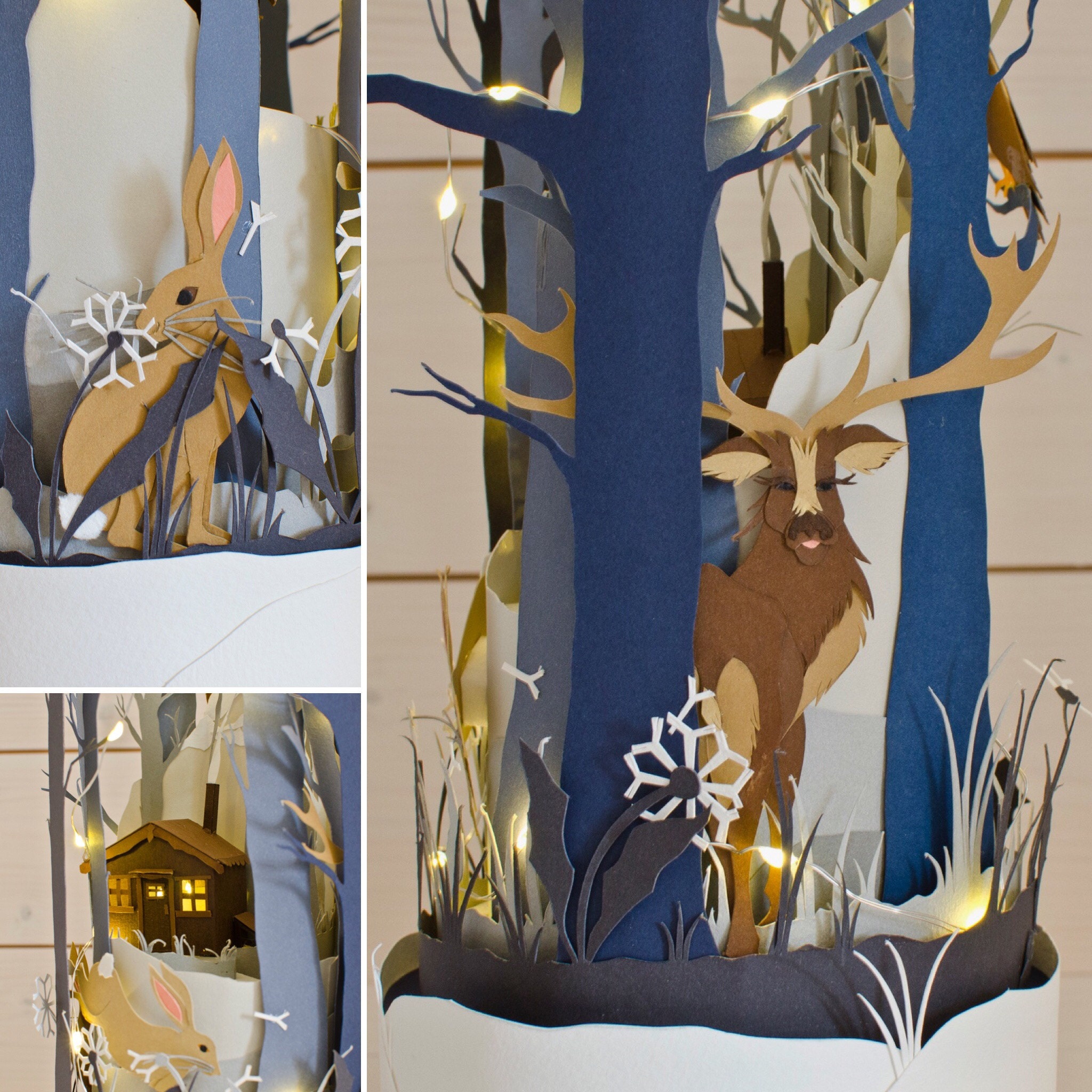 Winter Woodland 2017
I've come so far this year in understanding how to construct each artwork that goes in a cloche. Designing in the round used to be one of my least favourite stages to work to - as invariably the stage was static as was the audience and so someone was going to miss out on something visual at any one point. But working to this scale brings such joy as when the cloche is turned it reveals a whole new story again and again.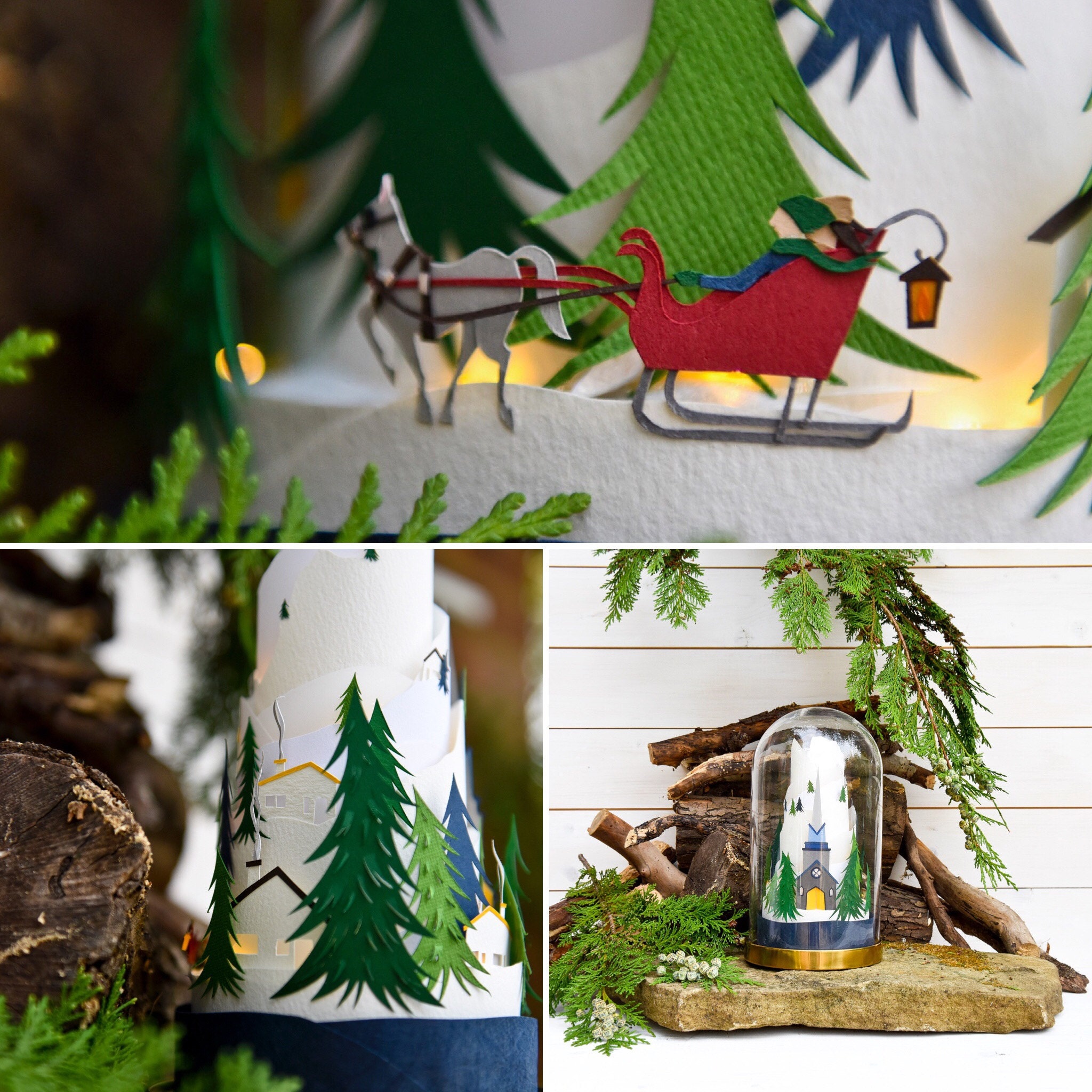 Snowy town sleigh ride 2018
For The Handmade Fair this year at Hampton Court, I've created many different worlds and styles of Art Cloches ranging from the peaceful bliss of a meadow with the buzzing of bees to the bustling streets of London and New York.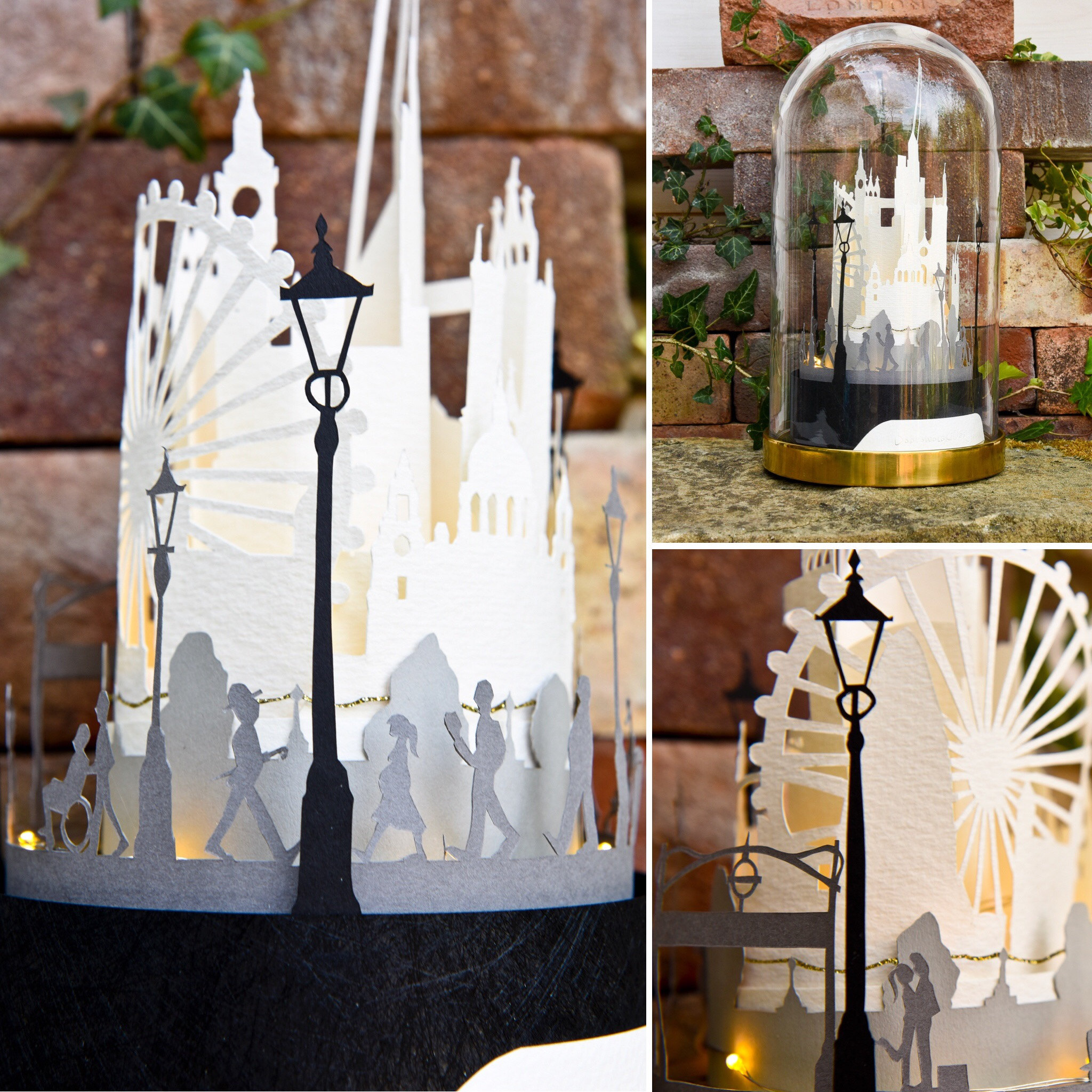 London 2018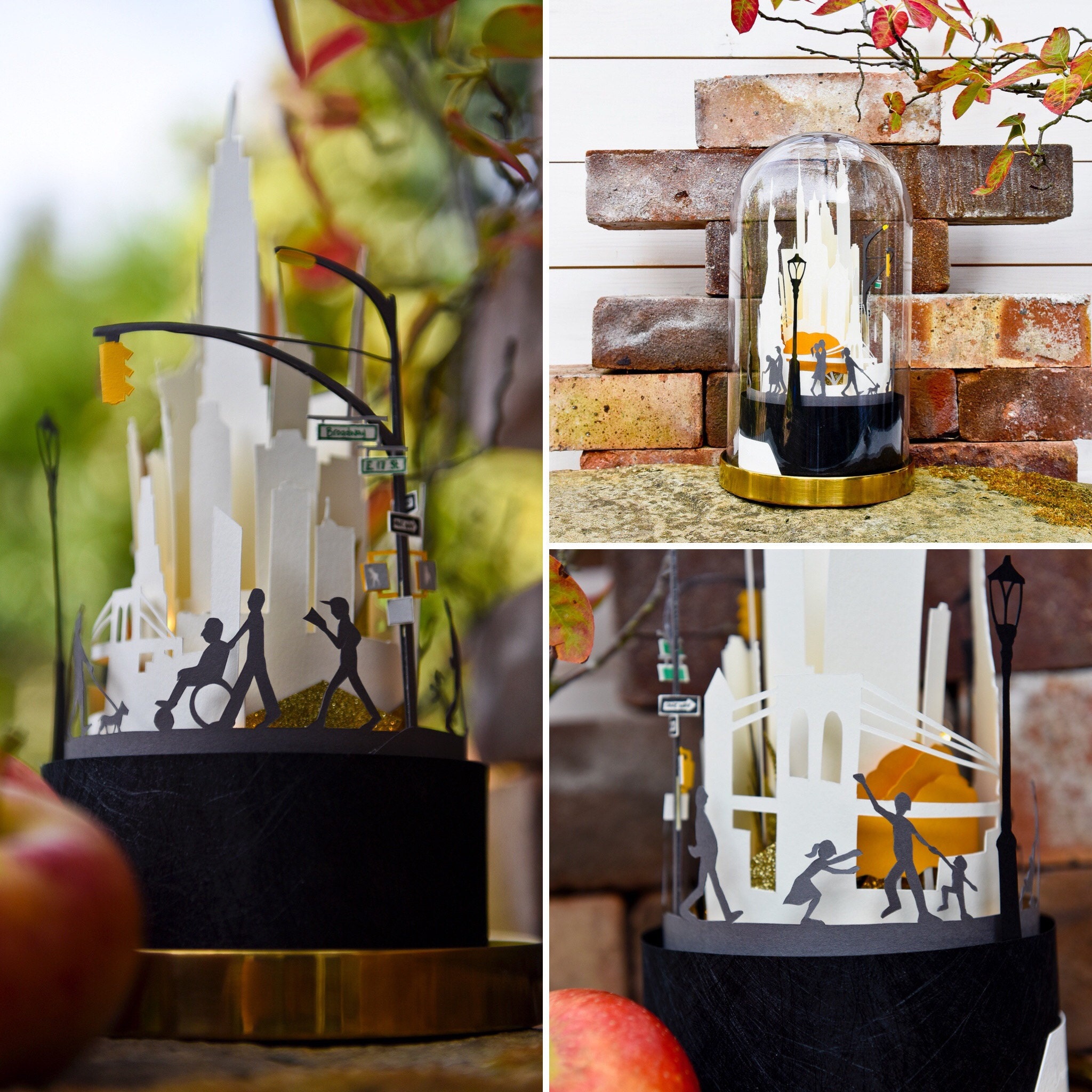 New York 2018
The process of making each individual cloche takes on average 10-15 hours. This starts with the design phase, sketching, research, then the sourcing of any special materials required for that artwork. Then a tracing paper mock-up to see if my ideas and concepts are going to work, invariably I go back to the drawing board and then back to the tracing paper mock up to make the design work. I then dive into the creation, tweaking the design as I go. Here's a time lapse video of the making of New York to show one cloche coming together in stages.
It has been a wonderful journey so far and I'm excited to see where it will lead to in a year from now. But first I have Christmas on stand by with many ideas tucked up my sleeve! If you are interested in looking at the cloches or placing a bespoke commission then please visit
www.dobrowolskidesigns.com
Nicola Dobrowolski