I've had many a job title in my creative career, but suffice to say I am a visual storyteller and I apply this to every aspect of my life, whether I choose to or not (as I'm sure all artists will agree!). I trained and practised as a Theatre Designer in London for 7 years. It was a wonderful job and a fantastic introduction to many a discipline that I use daily in my career now. Upon leaving the industry and growing and nurturing my wonderful family, I've been on a creative hunt to find a way to incorporate this design process back into my life, but on a manageable scale and not necessarily within the theatre world. I do believe that this year I finally struck gold.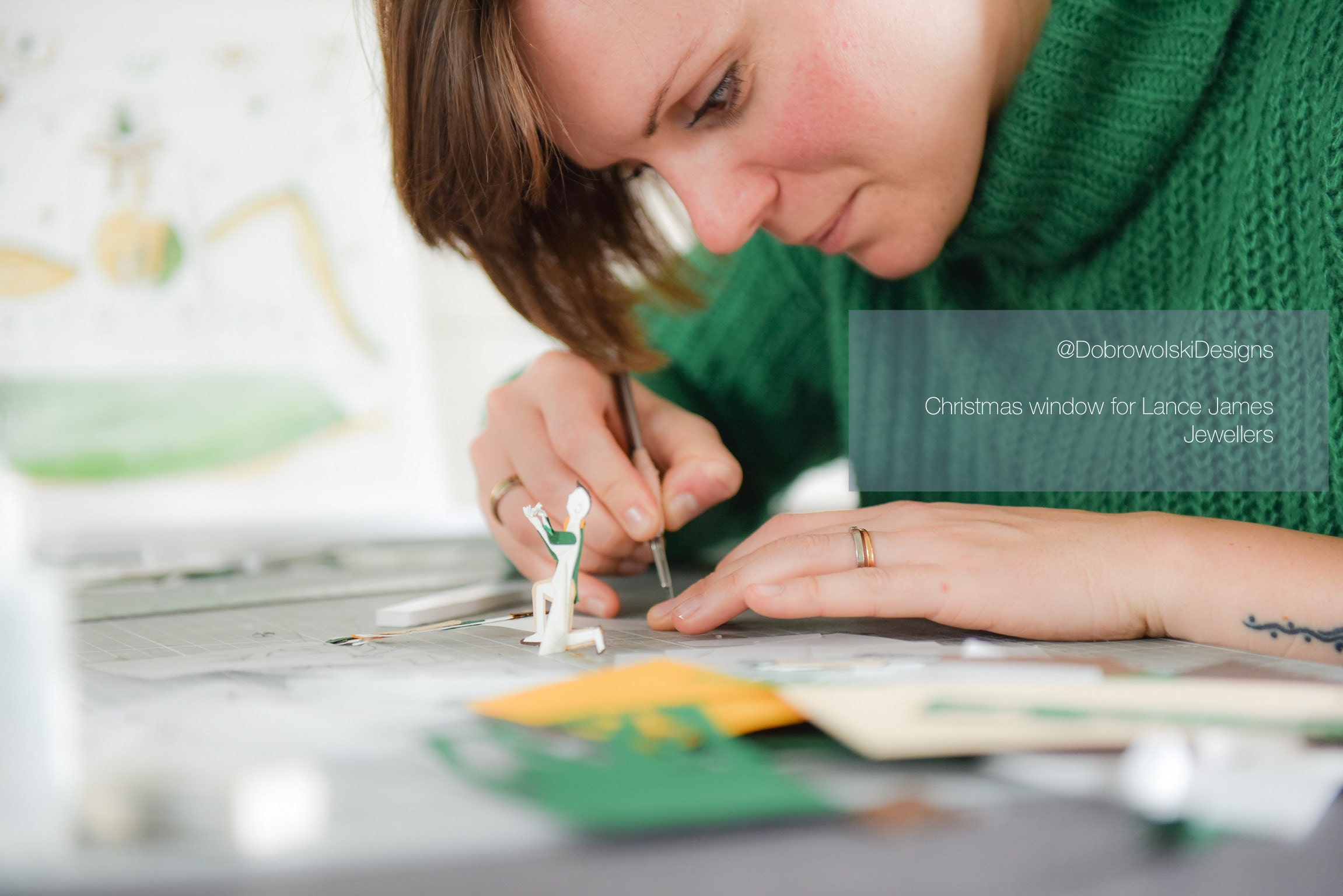 I'd like to tell you a little about my recent collaboration with this fantastic local business, Lance James - The Jewellers - in Hertford. I have only had the pleasure of knowing Jackie Benson, owner of the shop, since this Spring where we met at a networking group. In a bold move I offered to create a simple and striking display for the shop window with a summer theme, based on a summer meadow. The process was such fun and a great success, so I was thrilled when she asked me to return and design this season's Christmas window.  
The main aim of a successful window display is to catch the attention of potential buyers on a busy street. A great window can have a huge impact on foot traffic, brand image and, ultimately, sales. A creative window display that is completely different from what one's competitors have got, shows that the shop really cares about their products. So we decided to come away from the traditional take on Christmas and wanted to use the two display cabinets to tell two Christmas Stories, one of 'Giving' and one of 'Asking', both centred around the Lance James gift bag. 
The first window, 'Giving', features a Lance James gift bag tipped up, with baubles pouring out and forming the construction of a Christmas tree - the focal point of the celebration and coming together and giving.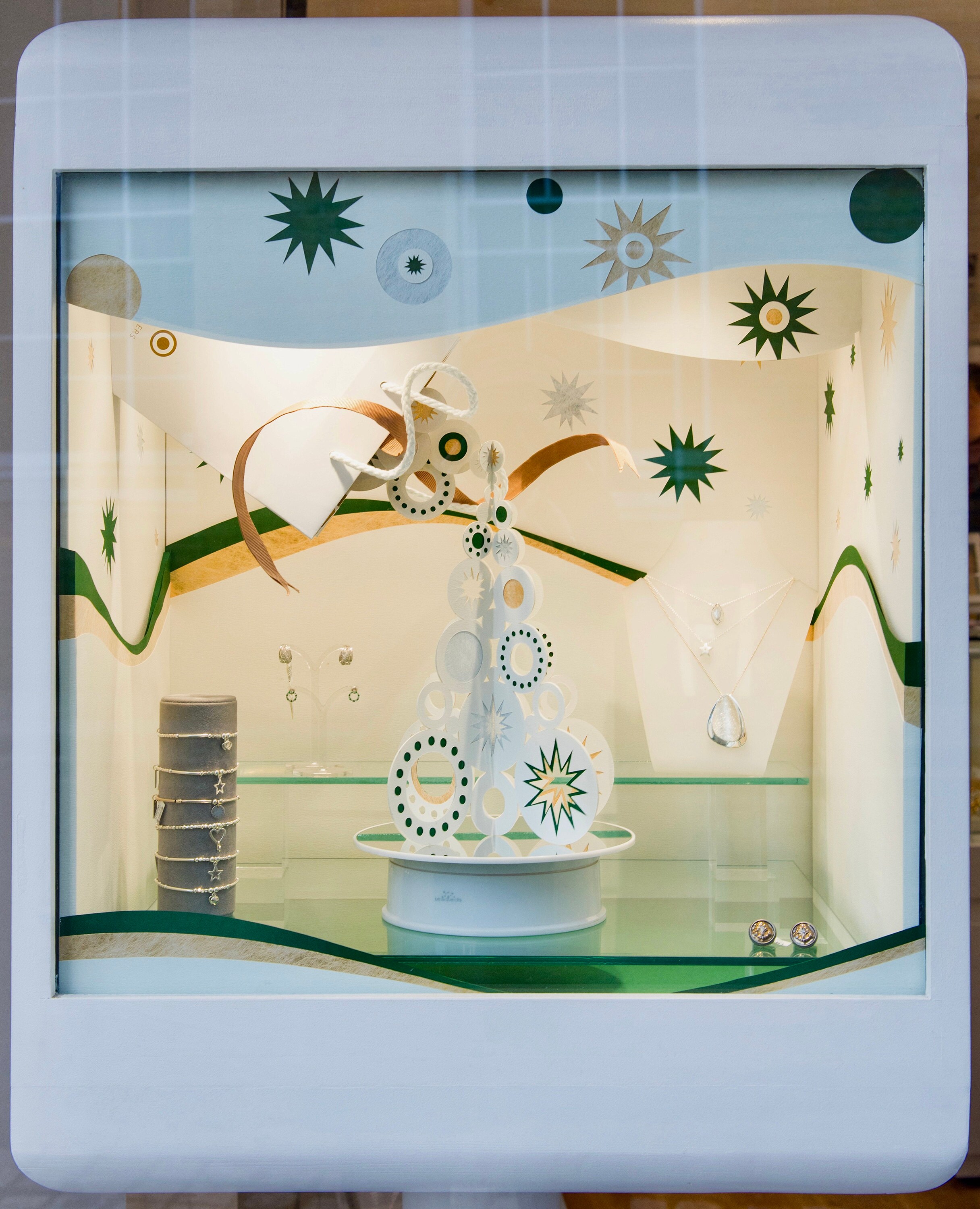 The second window, 'Asking' tells the story of romance. Christmas is a very popular time of year to get engaged. This window features a Lance James gift bag with two scenes intricately cut within it, the proposal and the acceptance.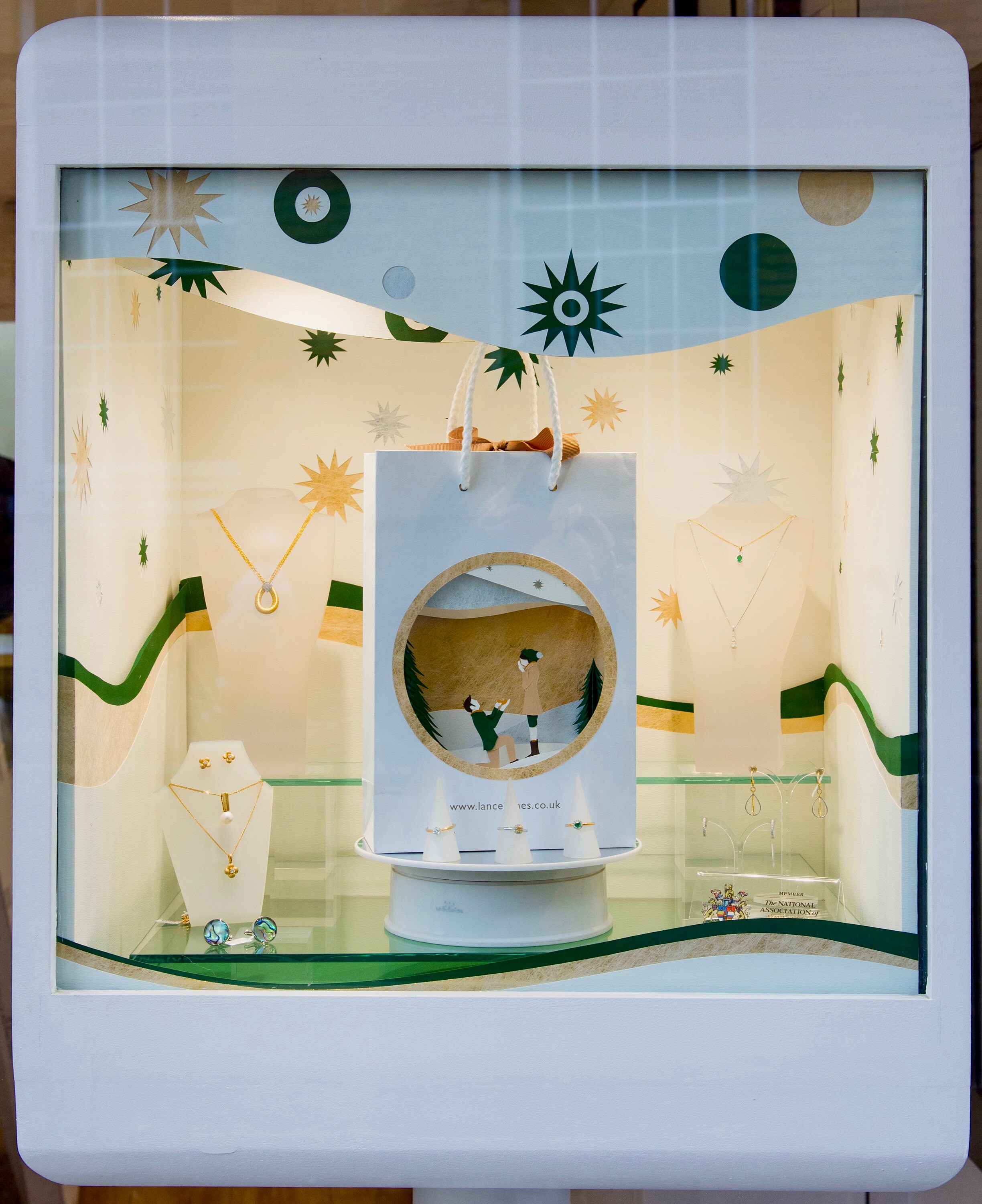 The brief that we decided on was to make the display sophisticated, clean and every bit of it to reflect what it's like to shop at Lance James, focussing on the logo, the bag and the company colours.  As a professional Paper Artist, I naturally chose to stick with my favourite medium for these window displays. Paper lends itself perfectly to this as it's fairly inexpensive and hugely versatile. The papers I use are the finest in the U.K. G.F.Smith's 'Colorplan' series features 51 colours, (with 4 new colours about to be released in November). Every section of this display is hand cut using a surgical scalpel and held with UHU glue.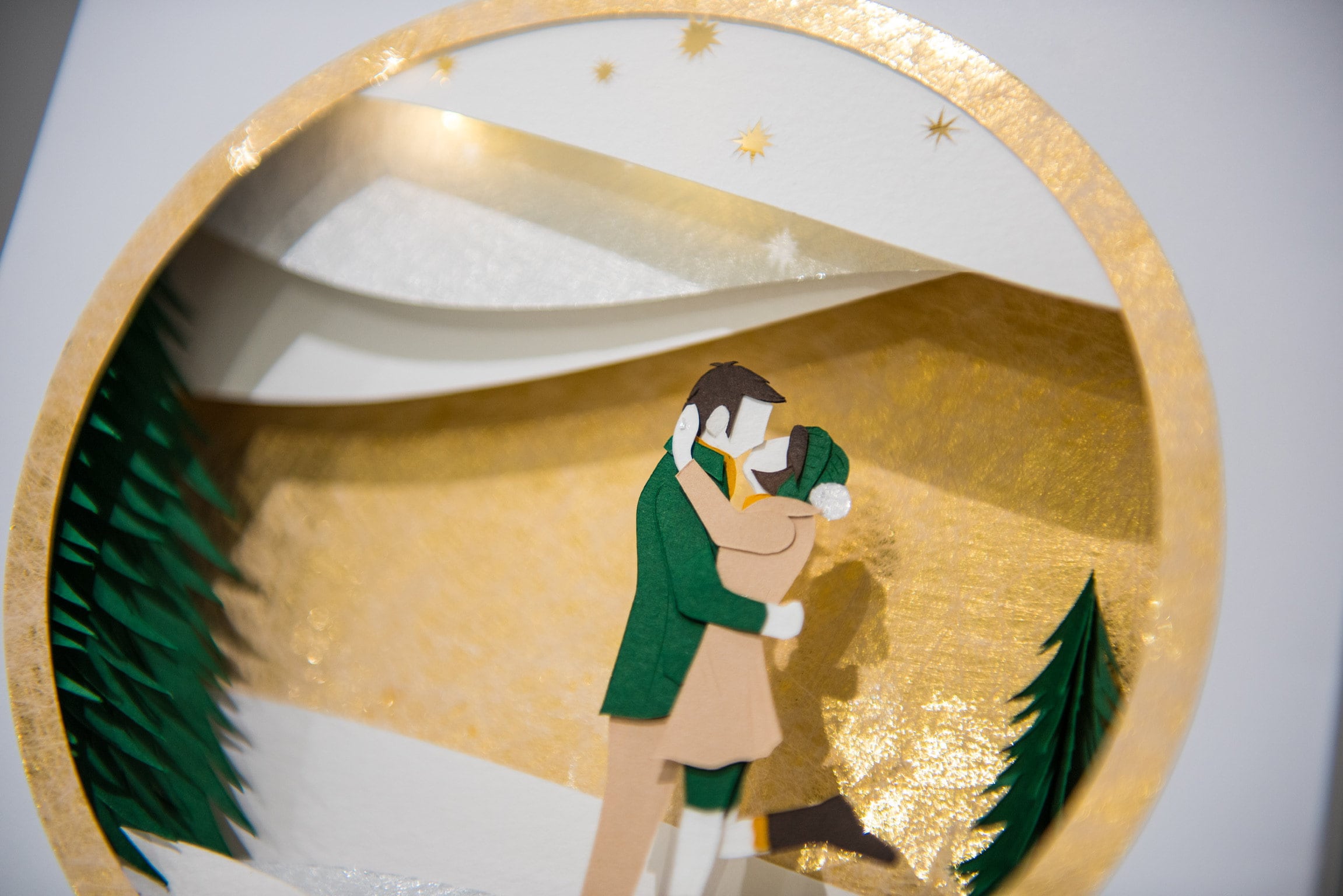 The creative process of designing to a brief in a space, with a budget and a timeline is a challenge that suits my thinking perfectly. The most significant difference from window displays compared to Theatre Design, is that I don't have any actors creating movement within the design. To get around this (sometimes) useful feature I have used turntables and multi-layered designs, creating a sense of revelation where more details of the design are discovered, the longer you look at it. 
As ever, getting the balance of design versus product/actor is a fine one, neither one should overpower the other. There should be a mutual conversation between the two that enhances both to their full glory. One needs to perfectly set the scene and be eye catching enough to grab passers-by and engage with them on a magical level, whilst also showing the products clearly. 
I guess that the main thing that I thrive on as an artist/designer is collaboration. Working alongside and with people and products brings such a clear sense of purpose to my work. The most refreshing discovery has been that I don't need a theatre to satisfy my creative Theatre Design mind.  Maybe Shakespeare got it right after all; 'All the world's a stage'.  
Working on this window display, and with Jackie, has certainly been a wonderful process and one I hope to continue expanding on in the future.   To see the display coming together please join me on social media @dobrowolskidesigns where I shall be showing a time-lapse movie of the process and the final outcome. Or even better - take a little time to go and experience it for yourself!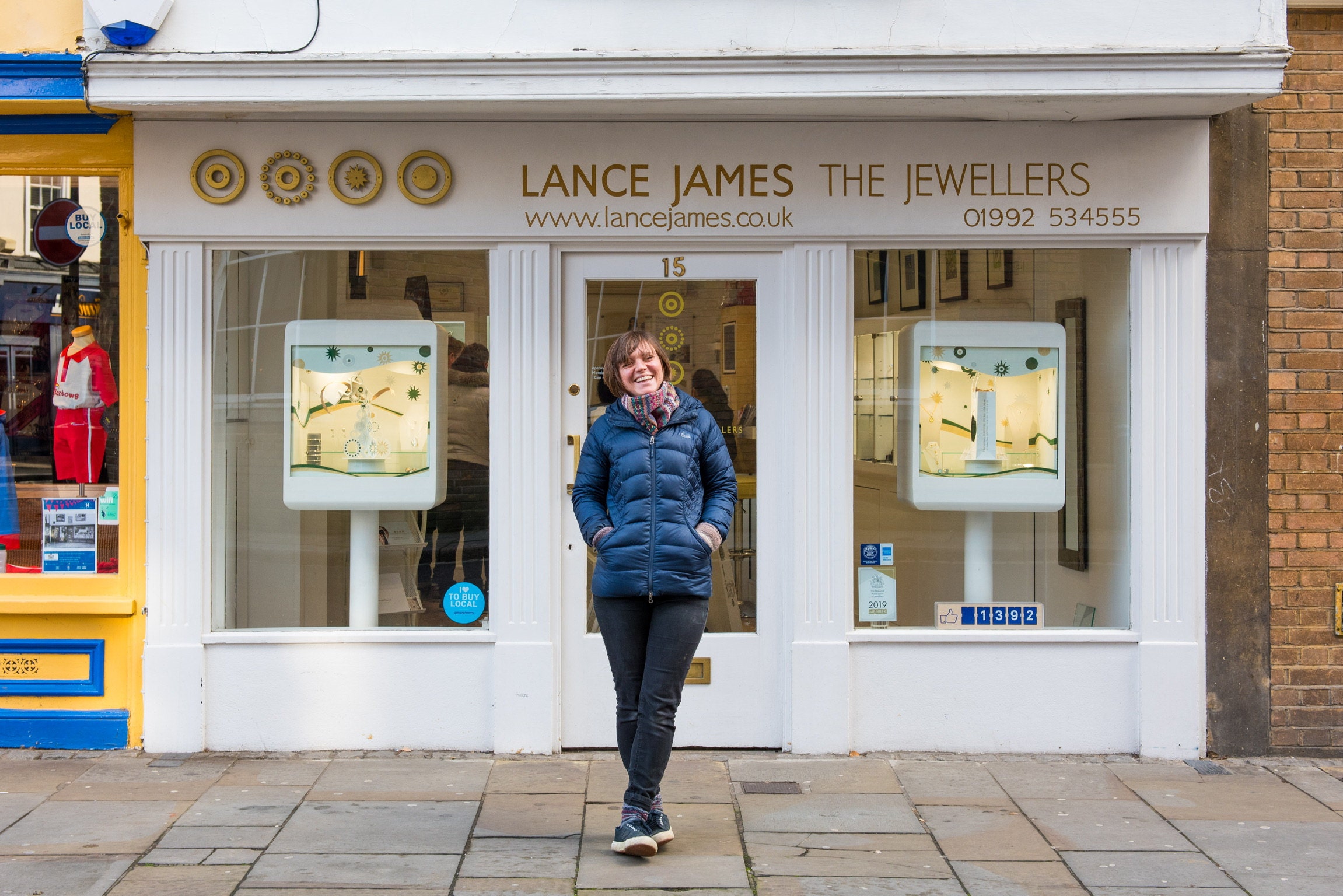 I wish you all a very Merry Christmas full of festive cheer and sparkle! Nicola Dobrowolski Paper Artist